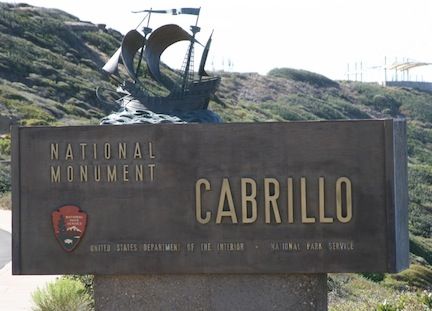 The best known landmark in Point Loma is the Old Point Loma lighthouse, an icon occasionally used to represent the entire city of San Diego. (It is sometimes incorrectly referred to as the "Old Spanish Lighthouse"; in fact it was built after California was admitted to the United States.) Perched atop the southern point that creates the entrance of the bay with Coronado, the small, two story lighthouse was completed in 1854 and first lit on November 15, 1855.
At 422 feet (129 m) above sea level at the entrance of the bay, the seemingly good location for a lighthouse soon proved to be a poor choice, as fog and cloud within the marine layer often obscured the beam for ocean-going vessels. On March 23, 1891, the lighthouse ceased to be used for its original purpose, as a new lighthouse was built nearer sea level on the same southern point. The Old Point Loma Lighthouse is now partially open to the public and has been refurbished to its historic 1880's interior. It is located within the Cabrillo National Monument, named after Juan Rodríguez Cabrillo, the first European explorer to see San Diego Bay.
The Cabrillo National Monument (daily 9am-5.15pm; 7-day pass $5 per car, pedestrians and cyclists $2), at the southern extremity of the hilly and very green peninsula of Point Loma , stretches south from Ocean Beach.
It was at this southern extremity where Cabrillo and crew became the first Europeans to land in California. That's as far as the historical interest goes, for they quickly reboarded their vessel and sailed away again.
The startling views from this high spot, however, across San Diego Bay to the downtown skyline and right along the coast to Mexico, easily repay the journey here. From the western cliffs of the park, a platform makes it easy to view the November-to-March winterwhale migration , when scores of gray whales pass by en route to their breeding grounds off Baja California, Mexico.